Cayetana Manglano, expert in orthodontics
Although she was born in Madrid, Doctor Manglano studied her academic career in the Universidad de Valencia. She was licensed in odontology in 1993 and specialised in orthodontics in 1997. She got her PHD in the same university in 2002.

Her investigations were entered around the characterisation of nickel-titanium wire in orthodontics, the biocompatible behaviour in these materials and their use in lingual orthodontics. Her investigative work won the Juan Carol prize to the best scientific communication in Santiago de Compostela in 2003.

After her PHD she delved even further into her investigations over that exact topic. She has presented publications and communications at conferences and has taught courses internationally.

In October 2017 she succeeded in get a prize for the best clinical case in the Sociedad de Ortodoncia Lingual Incognito in Paris. Since 2007 she teaches postgraduate orthodontic specialisation classes in the Universidad de Valencia, as a collaborative guest lecturer.

She is also a lecturer for the Máster Internacional In Lingual Orthodontics in the Universidad de Valencia, since its creation in 2016. She is often invited by international companies, so that she can learn first hand the most innovative proposals and give her opinion over them, from her practical perspective and great clinical experience.

Ultimatley Cayetana Manglano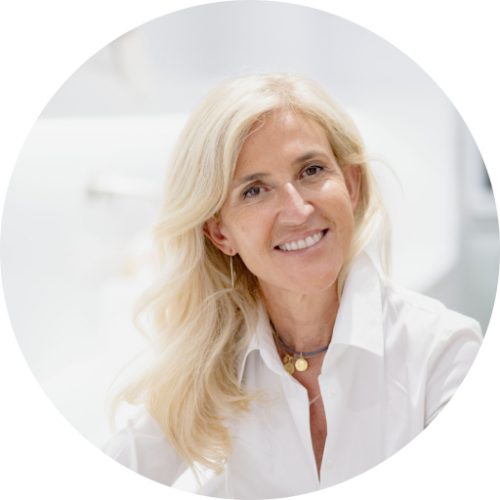 ORTHODONTICS EXCLUSIVELY IN THE CENTER OF VALENCIA
We want every single one of our patients to feel comfortable in our clinic, for that reason we count on the best specialists in orthodontics in Valencia. Also with a space that is innovative and comfortable; created so that adults feel comfort and are climatised, and so that the littlest ones perceive a relaxed and calm atmosphere.

With a clinic in the center of Valencia, in a place with the ideal connections to treat people from the city, as well as those who com from further out. Accessible for wheelchair users and a comfortable for people who have arrived from all over the world.
Director of the clinic in Valencia. She is responsible for attending to all the patients and giving them all the necessary information. She has lived a life dedicated to making every patient who enters our clinic, happy.
She prepares the patients and organises the appointments for the clinic in Valencia. She also personally takes care of the commercial aligner brands. You only need to spend a little time with her to realise she is all smiles, kindness and friendliness.
She has more than two decades of experience. She analyses diagnoses and orthodontic treatments alongside Dr Manglano, which has made her a fundamental support for Dr Manglano. Her way with patients is exquisite.
He is exclusively an orthodontist and a great bio-mechanic, innovation and treatment for surgery cases specialist. An orthodontist with great clinical experience, in Valencia.
She is in-charge of buying, stock and the management of the inventory. Her job as a hygeniest thrills her. She's always looking for perfection and she knows how to transmit security and trust with the patients.
She alternates between duties in the clinic, administration and reception. She is also in charge of the pictures for the case studies. She's a tireless hard worker, constant and sensitive. Also our fallera mayor.
In reception she is in charge of the telephone service we provide, the invoicing and accounting. She organises the hours; books in and organises the appointments so that we work in harmony and happily, without leaving our non work lives unattended.
We finance your treatments
Pay your orthodontics treatment in instalments of 29 euros a month*.
All our treatments are available to be paid in comfortable monthly instalments.
Up to 24 months of interest free financing.
*It will depend on each individual case.
Are you looking for teeth whitening in Valencia?
In Cayetana Manglano, we are experts at leaving your teeth healthy and gleaming. The teeth whitening treatment in Valencia has 3 options; whitening in the clinic, whitening at home and a combination of both.
If you are looking for experts in orthodontics in Valencia, Cayetana Manglano is the answer.
We are specialised in orthodontics and dental aesthetics in Valencia. We offer Invisalign orthodontics, lingual braces, metal braces, transparent braces and teeth whitening. Invisalign Diamond 2 Provider
Invisible orthodontics treatment is one of the most comfortable solutions in this present day.
Thats right, this type of treatment is simple and comfortable. It avoids having to go to the clinic very often, as the revisions are every 3 months. This means that if you live outside of Valencia, you would only have to come for a visit every 3 months.